Finding the right dentist for you and your family can feel overwhelming. With so many dentists to choose from, it can be challenging to decide. You not only want an experienced and knowledgeable doctor, but one that is kind, compassionate, gentle, and understanding. To make your search easier, here are the top seven things you should consider when looking for a dentist.
A great atmosphere is essential, but your dentist's skill, knowledge, and education are even more so. Your general dentist should have a four-year degree from an accredited dental school and be licensed by the territory in which they are located. Specialists, such as orthodontists, periodontists, and oral surgeons, require another two to three-year residency in their focus.
Dentistry is continually improving. That's why dental office teams must stay current on its changes. To do so, doctors, hygienists, and assistants should continue their education through regular courses and seminars. This way, you'll know their licenses are up-to-date and trained in the latest techniques and technologies.
There's no excuse for a dental office not to take sanitization seriously. It should always adhere to safety regulations with the utmost disinfecting procedures. Always keep an eye out to see if the dental office is clean and organized. Look for gloves, sterile instruments, dust, dirt, and grime. The environment should always be clean and safe.
Dental offices shouldn't feel cold. Instead, they should feel inviting and comfortable as soon as you step through its door. The Ora Dental staff will treat you like extended family and make you feel at home. Just like we'd greet visitors of our own home with a smile and warm welcoming, we will do the same for you. We promise to deliver the best dental care you've ever experienced.
Don't overlook the quality of communication. You should always be kept well-informed, heard, and understood. Be sure to pay attention to how the dentist and his/her team communicate with you during your initial consultation. Are they listening? Focused? Interested? A dentist should always want to know your goals and share a clear path to attaining those goals. You should leave the office with an explained diagnosis and treatment plan with timelines and pricing.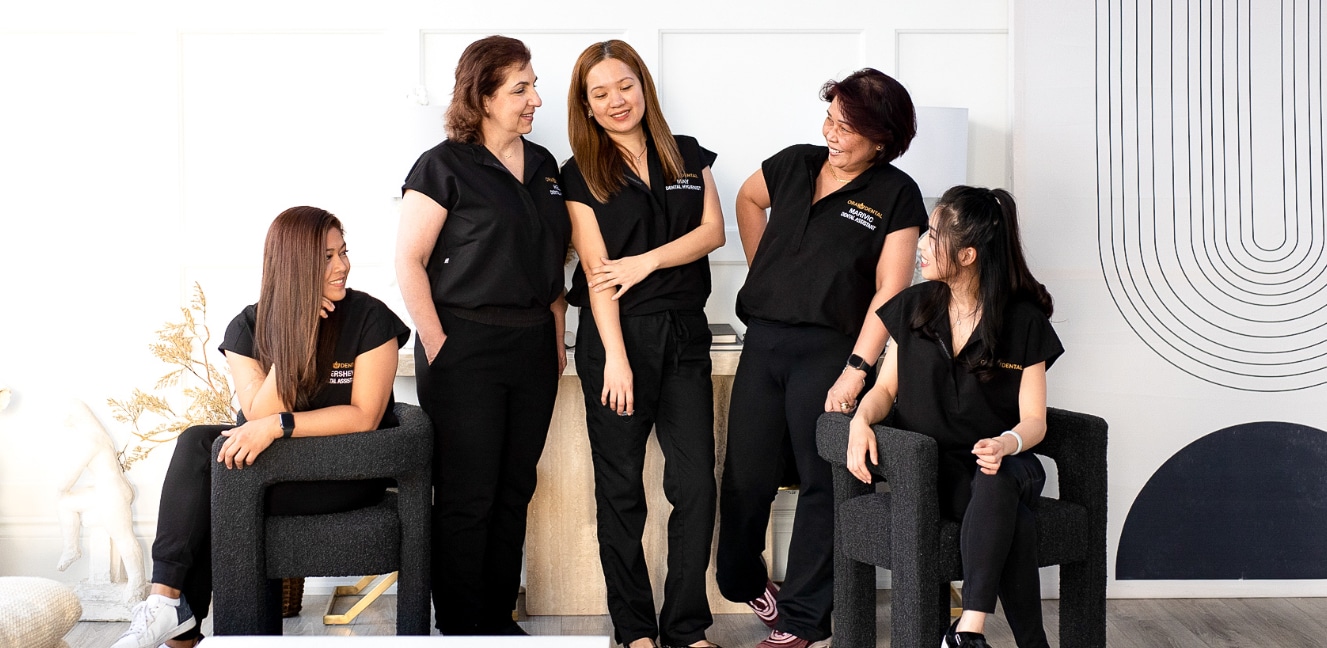 We are proud to share that your dentist in Toronto search can come to a close now! Ora Dental is a team that is all about you – your health, comfort, safety, and enjoyment. We combine artistry, compassion, and luxury in a modern atmosphere, without the extravagant price. You'll walk into our office to be welcomed with a warm smile and a complimentary beverage and walk out feeling and looking like royalty. And with a commitment to continued education, our team is always equipped with the best training and technology. (But don't just take our word for it, check out our reviews from actual patients!)
Are you looking for a dentist in Toronto? Give Ora Dental a try. We're here to provide you and your family with comfort-focused, top-rated dental care in Toronto. To schedule an appointment, call us at 647-691-6253 or fill out the form below.